Large anti-government protests in Poland over 'rule of law'
Comments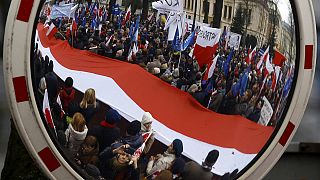 Tens of thousands of Poles have marched through Warsaw, demanding that the right-wing government respect the constitution.
Its controls on the media and other institutions have been criticised by the EU, the US and human rights groups.
At the rally which was organised by opposition parties, protesters called on the government to recognise a court ruling that declared judicial reforms illegal.
On Saturday the Law and Justice government rejected a ruling by the Constitutional Court outlawing some of the reforms, saying it would not take it as valid.
Earlier in the week the court declared illegal the government's decision to increase the number of judges needed to make rulings. The reforms also change the order in which cases are heard in the country's top court, and are said to make it difficult for judges to challenge – or even review – the government's legislation.
The European Council watchdog the Venice Commission had also called on the Polish government to recognise the court ruling.
The row has deepened a crisis that has stirred concerns about the state of democracy and the rule of law in Poland.
More demonstrations amid constitutional crisis https://t.co/2gl7zG03jo

— Radio Poland (@thenews_PL) 12 March 2016
At presidential palace in Warsaw #Poland#constitutionalcrisispic.twitter.com/dDy3XNcyzj

— Marcin Goettig (@marcingoettig) 12 March 2016