Journalist group comes under attack en-route to Chechnya
Comments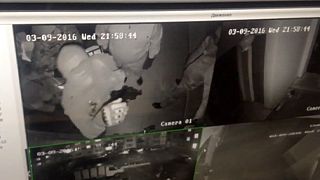 Journalists and human rights activists heading to Chechnya on a press trip have been attacked and their minibus set on fire.
That is according to the Russian Committee to Prevent Torture, which oversees a group of activists in Chechnya called the Joint Mobile Group.
It happened in the southern Russian region of Ingushetia.
1st video from attack on journalists & activists near #Chechnya border shows burnt out van https://t.co/GQGAsmDG5Tpic.twitter.com/2bPRtk9JQf

— Alec Luhn (@ASLuhn) March 10, 2016
Two reporters from Norway and Sweden, a lawyer and the bus driver were reportedly injured.
Ukropo4kA</a> Norwegian journalist Oyten Winstead after "hooliganism" in Ingushetia via <a href="https://twitter.com/RuslanLeviev">RuslanLevievpic.twitter.com/4GzP08wfWf

— Viktoria (@Ukropo4kA) March 10, 2016
Surveillance footage is said to show a group of masked men outside the headquarters of the Joint Mobile Group, in Ingushetia on Wednesday – the same day the group in the minibus came under attack.
The Committee to Prevent Torture says the reporters were being taken to victims of human rights abuses and relatives of people who've been kidnapped.
It added that it was the first media trip not organised by the Chechen government.
Last year, the Joint Mobile Group's office in Grozny was ransacked by masked men.
That apparently came after it criticised a policy of Chechen leader Ramzan Kadyrov to burn down houses belonging to relatives of suspected Islamists.