Portugal's new centre-right president sworn in
Comments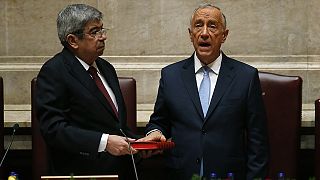 Portugal's new centre-right president was inaugurated on Wednesday.
Marcelo Rebelo de Sousa takes office amid increasing EU pressure on the government to further reign in spending to meet budget goals.
He stressed the importance of remaining loyal to commitments, especially the ones that he said are part of the country's foreign policy, such as with the European Union.
"Without accuracy or financial transparency, the risk of a return or a prolonging of the crisis is painfully higher" de Sousa told parliament.
The country's prime minister has also promised to stick to EU budget rules.
Last month he was forced by Brussels to hike indirect taxes to further tighten the budget.
The EU is pushing for more cuts, but Costa has said they are not necessary.
From next month, de Sousa will get the power to dissolve parliament, fire the government and call a new election.
Under the country's constitution, that power is on hold for six months after a national election, which was held in October.
He would need a good reason to resort to such measures, but it would increase the pressure on the government.