Nationwide day of protest in France against controversial labour reforms
Comments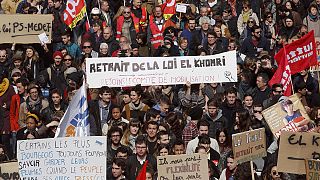 A nationwide day of protest in France is causing transport disruptions, with tens of thousands of workers out on the streets.
Train services came to a halt in many places, as railway workers joined up with other sectors demonstrating against controversial labour reforms.
One commuter said: "It didn't take longer than usual once we got the train. But the one we wanted to catch, which was up on the board, never came."
Rail operators have been attempting to keep as many services as possible going, but nothing is guaranteed.
Julien Dehornoy, an SNCF regional director, said: "It's a difficult day for our passengers, we're working to support them and ensure the day goes as smoothly as possible."
Students have also joined the main unions in the day of action.
This amid government plans to overhaul everything from maximum working hours and rules about days off to the size of redundancy packages .
The unions say some 150 marches and protests are planned nationwide.