Hollande and Renzi stand shoulder to shoulder on terror, Libya and migration
Comments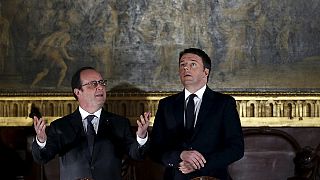 Europe's migration crisis, the threat of terrorism and a new high-speed train link between their two countries were key talking points for Francois Hollande and Matteo Renzi, meeting in Venice for a Franco-Italian summit on Tuesday.
The French and Italian leaders held talks after the EU's potential breakthrough deal on migration with Turkey.
"We are very happy to put all our efforts into writing a new page in the relationship between Turkey and the EU,"
Italian Prime Minister Renzi told reporters in a joint news conference.
But in a clear reference to Ankara's recent crackdown on the press, he added that "at the same time we say with great clarity and very strongly, that press freedom is an amazing value for France, home of the Declaration of Human Rights, for Italy and for all those men and women who believe in the founding values of the European Union."
On fighting terrorism, French President Hollande said that this means taking decisions on a European scale.
"They have been taken but we must implement them. Every country must make an effort," he added, urging that information be shared.
The leaders also expressed impatience at Libya's failure to form a functioning national unity government.
And they signed an agreement aimed at removing the final obstacles to the realisation of a long-delayed and controversial, high-speed rail link between Turin in Italy and the French city of Lyon.