Enrique Peña Nieto: Mexico will not pay for Donald Trump's wall
Comments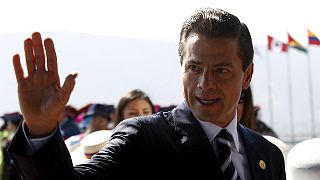 The Mexican president Enrique Peña Nieto says his country will not pay for Donald Trump's proposed wall along the US-Mexico border – and likened the Republican candidate to Hitler and Mussolini.
Peña has made clear his opposition to the New York billionnaire. When asked about his opinion, the Mexican President said he regretted the proposed plan and he could not see a scenario where his country would pay for its construction. In comments that were published in the Excelsior Newspaper, he went on to say:
"There have been episodes in human history, unfortunately, where these expressions of this strident rhetoric have only led to very ominous situations in the history of humanity. That's how Mussolini got in, that's how Hitler got in"
Peña's comments were among the most critical yet by a foreign leader of Trump.
The US Republican frontrunner made headlines when he made a campaign pledge to build a wall along the southern US border to keep out illegal immigrants and drugs, and to make Mexico pay for it.
He also upset his neighbours by describing them as "rapists".
Speaking after winning seven states on Super Tuesday, Trump compared his proposition with the Great Wall of China: "The wall is 13,000 miles long, we need a thousand miles. And we have all of the materials and we can do it so beautifully. And this is going to be a serious wall, this is going to be a high wall, this is going to be a serious wall."
Peña said instead of building walls he wanted to build "bridges of understanding" between the two countries in a mutually respectful way.