'Super Saturday' setbacks for Hillary Clinton and Donald Trump but they remain out in front in the race to the White House
Comments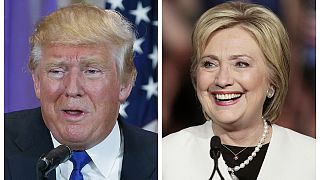 US presidential nomination front-runners Donald Trump and Hillary Clinton have suffered setbacks in the latest round of voting although they remain ahead of the pack overall.
Republican candidate Ted Cruz won in Kansas and Maine on Saturday, boosting his claim that he's the only one who can prevent Trump winning the nomination, something which he told supporters would have far-reaching consequences:
"Republicans are coming together, they're united behind our campaign. The 65 percent of Republicans who recognise Donald Trump is not the best candidate to go head-to-head with Hillary Clinton, that the odds are too high. He loses, we lose the Supreme Court for a generation, we lose the Bill of Rights, we lose the Senate. And what we're seeing is Republicans coalescing around our campaign."
But Trump won in Louisiana and Kentucky, enough to keep him out in front at least for the time. He remained as undaunted and optimistic as ever on what is now called 'Super Saturday', when a total of 7 counts are up for grabs.
.realDonaldTrump</a>: "I&#39;ve been beating [<a href="https://twitter.com/tedcruz">tedcruz] almost 3 to 1." #SuperSaturdaypic.twitter.com/vzozDt0×3N

— Fox News (@FoxNews) March 6, 2016
Meanwhile Democrat Bernie Sanders' victories over Clinton in Kansas and Nebraska keep him in the race:
"The people of this country are tired of establishment politics and establishment economics. They want real change in this country. And I feel very strongly, not only when I see large crowds like the one we had tonight, but when I see votes like the votes we are receiving, that we've got a lot of momentum and that we have a path towards victory," he said.
#Bernie torched it up #SuperSaturday! Won 2/3 contests & predicted to win #Maine!!! #FeelTheBern#Flint#DemDebatepic.twitter.com/hPImPoRT3E

— Teabar.com (@MAHAMOSA) March 6, 2016
Nevertheless Hillary remains in the lead and Sanders has a way to go to take that from her.