Sanders battles on after Super Saturday wins in US election race
Comments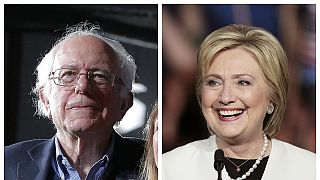 Still in the race and still determined to be the Democrats presidential candidate in November, Bernie Sanders beat rival Hillary Clinton in Nebraska and Kansas on Super Saturday's round of voting in the state-by-state nominating contest.
We've got the momentum, the energy and the excitement that will take us all the way to the Democratic National Convention in Philadelphia.

— Bernie Sanders (@BernieSanders) 6 mars 2016
The Vermont Senator continues to call for his rival to release transcripts of her paid speeches to Wall Street.
Speaking to supporters in Michigan, Sanders quipped: "If you are going to be paid 225,000 dollars for a speech, it must be a fantastic speech. A brilliant speech which you would want to share with the American people, right?"
It is an appeal that Sanders has made repeatedly on the campaign trail.
I think if you're gonna get paid $225k for a speech it must be a good speech—Shakespearian. I can't wait to read it.https://t.co/N86ByFUUZD

— Bernie Sanders (@BernieSanders) 6 mars 2016
But the self-declared Democratic Socialist remains far behind Clinton when it comes to delegates. And the former Secretary of State's Super Saturday win in Louisiana slightly expanded her lead.
Enjoying strong support among African-American voters, Clinton has her own answer to Donald Trump's 'Make America great again' pledge.
Also campaigning in Michigan, ahead of next week's primary there, she told supporters:
"We have got to make America whole. Diversity is a strength not a weakness. If we see each other's humanity, if we lift each other up when we stumble, we can keep moving towards that more perfect union."
This country belongs to all of us—not just to those at the top. Not just to people who look one way, worship one way, or even think one way.

— Hillary Clinton (@HillaryClinton) 6 mars 2016
Next up for Democrats is a contest in Maine on Sunday and a nationally televised debate on Sunday night from Flint, Michigan, a majority-black and impoverished city that has suffered a health crisis caused by a contaminated water supply.