'Nobody cares': spirits low on Greek border ahead of Brussels summit
Comments
By
Sarah Taylor
with
UNHCR, UNICEF, Reuters, Save The Children, DPA, Politico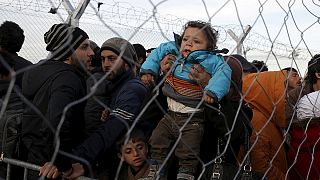 "Greece needs a safety valve," warns the United Nations refugee agency (UNHCR), "It's time for Europe to wake up."
We have so many children, they are very sick and nobody cares. [...] What can we do?
Tighter border restrictions enforced by Macedonian authorities mean the number of migrants currently stranded in Idomeni, on the Greek border, tops 13,000.
'Nobody cares'
It's cold and muddy and people are becoming ill. One man gave his opinion on the situation.
"I am here from almost ten days and nobody cares about us. We have so many children, they are very sick and nobody cares. We have so many old men, they are very sick – like dying -, nobody cares. What can we do?" he asked.
Around 57 percent of refugees from Syria arriving in Greece are women and children, according to the UNHCR.
Athens has announced a health centre will be set up in Idomeni by Wednesday (March 7).
Syrians and Iraqis 'turned away'
But that is not the only issue on people's minds. The UNHCR reports Syrians and Iraqis are being turned away if they come from certain cities Macedonian authorities don't deem war zones.
A refugee from Damascus said he had experienced this first-hand.
"Everyone who has an ID from Damascus cannot pass. Because the government of Macedonia told us that Damascus is "safe country". But there are people like me from Yarmouk camp and Yarmouk camp is not safe."
An estimated 30,000 people are trapped in Greece. They are stuck in a bottleneck intensified by new daily limits on migrant arrivals imposed by a number of countries along the Balkan route.
The kindergarten of #Idomeni (ran by @savechildrenuk & Arsis) is about to open #Greece#migrantcrisis#refugeesgrpic.twitter.com/SoC03oO7Af

— Kostas Kallergis (@KallergisK) March 6, 2016
European and Turkish leaders will meet in Brussels on Monday (March 7), where Ankara is expected to be pushed to take back more economic migrants from Greece.
The EU and Ankara are close to a deal, @jacopobarigazzi writes https://t.co/qHgEkSqEZs#refugeesGr#migrantcrisispic.twitter.com/wIBlKIR2yi

— POLITICO Europe (@POLITICOEurope) March 4, 2016