Refugee children hit hardest by Greek-Macedonian border limbo
Comments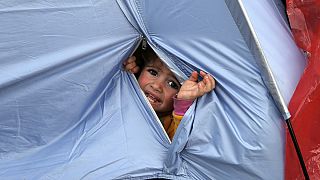 With some 12,000 migrants massed at the Greek-Macedonian border, the most vulnerable residents of the makeshift refugee camp there are suffering the most.
You can clearly see that the living conditions are affecting the health of the children
Living in filth and exposed to the elements, with food and water in short supply and sanitation facilities scarce, children are falling ill – among them Hani from Iraq.
For the last two days, she has been unable to keep anything down for more than ten minutes, whether it is water, tea or food, explains her father, Hazi Mohammad.
Volunteer doctors do their best but with at least 2,500 children thought to be at the Idomeni border camp, it is a difficult task.
Child refugees & migrants suffering most from border restrictions in southeastern Europe: https://t.co/BeRkgvrcNKpic.twitter.com/SevHxWr2Tp

— UNICEF (@UNICEF) 3 mars 2016
"You can clearly see that the living conditions are affecting the health of the children," said Cecile van de Konijnenburg, a doctor with the Medecins Sans Frontieres charity.
"When it is raining and they don't have shelter, they will be cold. They will catch a cold, they will catch respiratory diseases."
Rain is forecast at #idomeni so @MSF is handing out raincoats to kids and the elderly who are most vulnerable. pic.twitter.com/8V0pU8R0rB

— MSF Sea (@MSF_Sea) 3 mars 2016
Amid warnings of a full-blown humanitarian crisis, things could get even worse.
"I think the biggest fear is that we cannot help everyone, that there will be someone left behind, that there is not enough time to treat everyone, there is not enough tents to shelter everyone, maybe there is not enough food to feed everyone," Cecile van de Konijnenburg said.
As numbers at the border increase with new arrivals every day, Macedonian authorities continue to allow only a handful of refugees through.
Their lives already turned upside down, refugee children, like the stranded adults in the camp, still have no end to their suffering in sight.
Dear Europe,children r living in chaos b/c of border closures,is this abiding by int standards?Where is ur humanity? pic.twitter.com/6hBGFhBt5q

— Save the Children (@save_children) 3 mars 2016