Stalin loyalists pay tribute 63 years after his death
Comments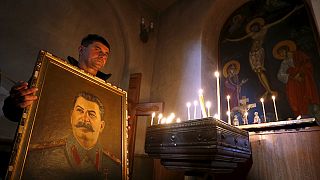 Widely seen as a brutal dictator, Josef Stalin is remembered more fondly by loyalists including leaders of Russia's Communist Party.
Admirers marched to the former Soviet leader's grave by the Kremlin Wall on Moscow's Red Square on Saturday to pay tribute, exactly 63 years after his death.
Six decades on, Stalin's legacy remains the subject of bitter debate and broad interpretation in Russia, where many still believe he did some good for the country.
A Communist party supporter cries while placing flowers on Stalin's grave on the anniversary of his death. (@ap) pic.twitter.com/4SKrahmrt1

— The Moscow Times (@MoscowTimes) 5 mars 2016