Rupert Murdoch marries his fourth wife, Jerry Hall, in London
Comments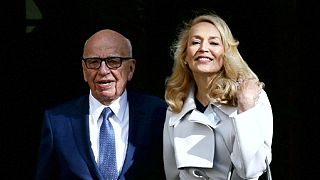 The boss of News Corporation Rupert Murdoch has married supermodel Jerry Hall in a low-key civil ceremony in London.
The couple got engaged in the US city of Los Angeles in January, where they had been attending the Golden Globes ceremony.
They were first seen in public together her at the Rugby Union World Cup Final in London in October.
The news of their engagement was announced in a classified ad in The Times, one of many titles News Corporation owns.
The couple's marriage service was set for Saturday afternoon at London's so-called spiritual home of British journalism St Bride's Church on Fleet Street.
Texan model and actress Jerry Hall was previously in a long-term relationship with Rolling Stones singer Mick Jagger.
Murdoch divorced his third wife, Wendi Deng, a former executive at Star TV in China after 14 years, saying their marriage had been irretrievably broken.