Republican debate turns into cock fight – Trump defends size of his man parts
Comments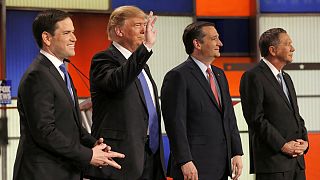 After two hours of personal insults, the latest presidential debate in Detroit dealt an astonishing blow to the growing "Stop Trump!" movement in the Republican Party: the moment when Donald Trump's remaining three rivals, in an answer to the final question, pledged that they would support the real estate mogul as their party's nominee, should he end up victorious in the primary process.
It was a stunning confession of Florida senator Marco Rubio, Texas senator Ted Cruz and Ohio governor John Kasich that totally buried their following 30-seconds closing remarks in which they awkwardly claimed they would make the best president.
Just hours before the debate, leading Republican politicians had gone on the attack against Trump and urged voters not to vote for him. Spearheading that effort was Mitt Romney, the 2012 nominee, who accused Trump of bullying, greed and misogyny.
As he did at a campaign rally in Maine earlier, Trump dismissed Romney as a "failed candidate", but he immediately found himself on the defensive from Rubio and Cruz.
After Ben Carson had effectively dropped out of the race shortly before the debate, there were only four candidates left on the stage which made the contest the most intimate so far.
But it was also the least substantial and weirdest sparring test that saw its most bizarre moment just minutes into the nasty exchanges, when Trump defended the size of his hands and then quipped about his penis. Yes, he did it.
It started about the personal attacks Rubio has made on Trump. The Florida senator said that if any candidate "deserved" to be personally attacked, it was Trump because of how much he attacks others. On the campaign trail, Rubio had recently poked fun at the size of Trump's hands which Rubio believes are small.
Trump responded on the stage with feigned surprise that Rubio "hit my hands. Nobody has ever hit my hands. I've never heard of this." Then he spread his palms out.
"Look at those hands. Are they small hands? And he referred to my hands — if they're small, something else must be small. I guarantee you there's no problem, I guarantee."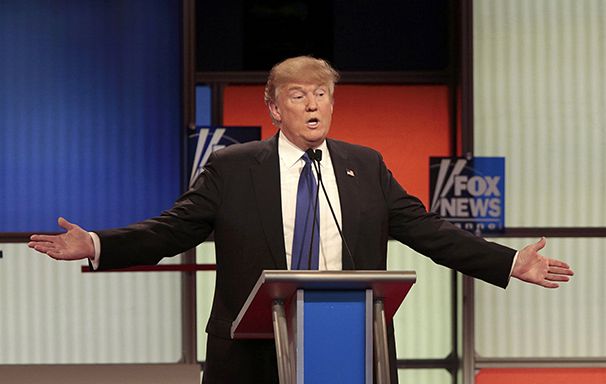 Rubio shot back that he was "not going to turn over the conservative movement to someone who thinks the nuclear triad is a rock band from the 1980s".
Rubio's attacks against Trump were not the only ones that Trump had to take in on Thursday. Calling him a "phony" and a "fraud", former party standard-bearer Romney said Trump's policies – like the deportation of undocumented migrants and banning Muslims from entering the US – would make the world less safe.
Others like House Speaker Paul Ryan, who was Romney's running mate in 2012, and Senator John McCain, who was the Republican nominee in 2008, and a host of national security committee members have also attacked the New York real estate mogul since he cemented his front-runner status earlier in the week on Super Tuesday.
On the debate stage, Rubio and Cruz went after Trump relentlessly. Cruz repeatedly depicted his fiercest rival as a fake conservative who supported Democrats like Jimmy Carter, John Kerry, Chuck Schumer financially for many years.
The Texas senator mentioned in particular campaign contributions to Hillary Clinton, when she first ran for president in 2008 against then-senator Barack Obama. "You wrote her four checks. How can you confront her today?", Cruz asked.
Rubio and Cruz then raised particular concerns about Trump University, the defunct seminar program that's now the subject of a lawsuit. "He's making promises he has no intention of keeping," Rubio said. "He's trying to con people into giving them their vote just like he conned these people into giving him their money."
Trump navigated a debate that took juvenile and raucous turns, as only Trump can and does. He called his rivals "Little Marco" and "Lying Ted," even as he was asked tough questions about Trump-branded clothing being made in China, his onetime support of gun control, and his support for torture.