Insults fly as Republican race for the White House erupts into civil war
Comments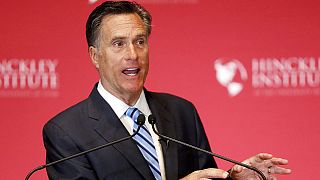 The rancor in the US Republican party exploded on Thursday as former presidential nominee Mitt Romney launched a blistering attack on Donald Trump's bid for the White House. His increasingly likely nomination after 'Super Tuesday' and controversial view have provoked the ire of establishment colleagues.
Donald Trump is a phony, a fraud
"Here's what I know. Donald Trump is a phony, a fraud," said Romney in a speech in Salt Lake City. "His promises are as worthless as a degree from Trump University. His domestic policies would lead to a recession, his foreign policies would make America and the world less safe. He has neither the temperament nor the judgement to be president. Think of Donald Trump's personal qualities – the bullying, the greed, the showing off, the misogyny, the absurd third grade theatrics."
Never a man to hold back Trump responded in his characteristically direct style:
"I'll just address it quickly because it's irrelevant," the New York billionaire told a delighted audience in Portland, Maine. "Look, Mitt is a failed candidate. He failed. He failed horribly. I backed him (four years ago during the last campaign). You can see how loyal he is. He was begging for my endorsement. I could have said 'Mitt, drop to your knees' and he would have dropped to his knees. He was begging."
Why did Mitt Romney BEG me for my endorsement four years ago?

— Donald J. Trump (@realDonaldTrump) March 3, 2016
If Trump had said 4 years ago the things he says today about the KKK, Muslims, Mexicans, disabled, I would NOT have accepted his endorsement

— Mitt Romney (@MittRomney) March 3, 2016
But his popularity with ordinary voters is not being reflected within the party. More than 90 Republican foreign policy veterans are reported to have pledged to oppose his nomination for presidential candidate.