North Korea 'nuclear standby' orders spark global concern
Comments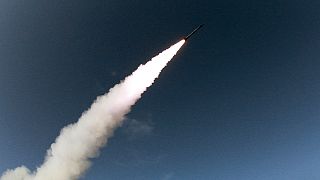 He is no stranger to bellicose rhetoric.
But Kim Jong-un's latest orders for North Korea to be ready to use its nuclear weapons at any time, putting the military in 'pre-emptive attack' mode, have sent shockwaves around the world.
Kim's comments, made amid exercises involving new multiple rocket launchers according to state TV, sparked particular concern over the border in South Korea.
Attending a military ceremony there on Friday, South Korean President Park Geun-hye was resolute.
"If we don't stop North Korea, its nuclear capabilities will continue to be heightened, which will bring an irreversible disaster to the future of our people and demolish the basis of peace and order in Northeast Asia," she declared.
Kim said that North Korea should "bolster up (its) nuclear force both in quality and quantity" and stressed "the need to get the nuclear warheads deployed for national defence always on standby so as to be fired any moment," the North's official KCNA news agency quoted him as saying.
"Now is the time for us to convert our mode of military counteraction toward the enemies into a pre-emptive attack one in every aspect."
Kim Jong-un, North Korea's leader, has told his military to have nuclear warheads on standby https://t.co/7onI0e2eetpic.twitter.com/0W6qKbAxe5

— New York Times World (@nytimesworld) 4 mars 2016
Responding to the reports, a US Defence Department spokesman, Commander Bill Urban, said, "We urge North Korea to refrain from provocative actions that aggravate tensions and instead focus on fulfilling its international obligations and commitments."
Moscow expressed concern about the threat.
Russia is seriously worried by North Korea's declared readiness to use its nuclear weapons, Kremlin spokesman Dmitry Peskov said.
"This raises pretty serious concerns," Peskov told a teleconference with journalists.
"We hope that all countries in the region will maintain restraint and a balanced attitude."
However, Russia and the North's main ally China, are unhappy about the formal opening of talks on Friday between Washington and Seoul on the possible deployment of a US missile defence system in South Korea in response to the North's growing belligerence.
The latest escalation of tension on the Korean peninsula comes after tough new UN sanctions, drafted by the United States and China, following Pyongyang's fourth nuclear test in January, as well as last month's satellite launch, which critics said was really a test of ballistic missile technology.
The EU has also extended its sanctions against Pyongyang, in line with the UN.