Kim Jong-un orders North Korea to ready nuclear weapons for use 'at any time'
Comments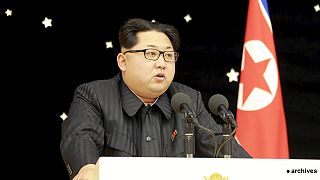 North Korea's leader Kim Jong-un has ordered his country's military to be ready to use nuclear weapons at 'any time' according the the communist state's news agency.
Kim is reported to have supervised an exercise involving newly developed multiple rocket launchers.
The KCNA news agency on its website reported that Kim has told his military leaders to update their posture to a readiness to launch pre-emptive strikes, claiming that "enemies are threatening the state's survival."
According to the South Korean government the North fired six short-range weapons into the sea on Thursday from Wonsan on the eastern coast. A spokesman said they were unsure if they were rockets or guided missiles
This latest development comes after the United Nations imposed tough new sanctions on North Korea over a recent nuclear test and missile launch.
The US Defense Department responded to Kim's nuclear readiness order by saying that Pyongyang should refrain from provocative actions that aggravate tensions.
A Pentagon spokesman said the situation on the Korean peninsula is being closely monitored in coordination with regional allies. He added that North Korea should be focusing on fulfilling its international obligations and commitments.