Building a future for widows and orphans from Syria
Comments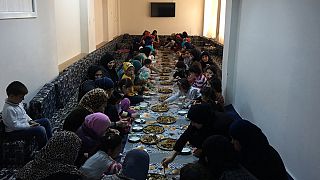 Mahira Abdayun came to Turkey from Syria after she lost her husband in a bombing attack by the regime forces.
"It all began when the regime entered the villages around Idlib and my husband and daughter died during a bombing raid by the regime. I was with them," she told euronews.
With four children to support but no home and no source of income, her family's prospects were bleak.
But help arrived in the shape of Hatice Okur and the aid foundation she set up in Bursa.
Okur established her organisation in the town of Akcakale close to the Syrian border after being shocked by the situation in which mothers and their children found themselves.
She rented a building which had been a hospital with 60 rooms and other facilities. Four months ago the foundation started to settle widows and their children who lost their fathers in the war.
In the kindergarten there is a morning greeting for the teacher from whom the children get a basic education, how to read and write. There are 80 orphans and 20 widows four of the siblings have lost their mothers. Kubra Keskin also teaches them basic Turkish.
"When we talk about a story if the word father is there they will be affected psychologically. When they hear a sudden noise they become afraid. The border is just opposite us we hear sounds of gunfire and they are frightened. They cry. It is hard really hard. I am so sorry for them. But I hope it will get better," she said.
The centre needs 10 000 euros per month to keep going, but Hatice Okur has more projects.
"We have a kindergarten for toddlers. We think about opening a school and we want to provide courses for to learn occupations. When kids grow up we want mothers to move their homes and establish a new life. If the mothers learn Turkish they will be able to rent an apartment more easily. This is our aim," she explained.
Our correspondent, Bora Bayraktar says "Widows and orphans are one of the main issues of the Syrian civil war. Some NGOs have started to take steps to help solve the issue. But there are so many of them and it seems that bigger projects like this are necessary."