Evictions at Calais camp enter fourth day amid mouth-sewing protests
Comments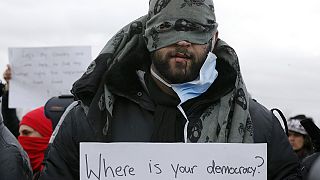 Despite further protests with migrants sewing their mouths together, evictions and demolition work went on into a fourth day at a camp in Calais in northern France.
The police are helping to remove migrants refusing to leave the southern part of the camp, which is known as The Jungle.
Hundreds of people who want to make it to the UK are being offered relocation to other areas in France. But many are refusing.
One 25-year-old Iraqi migrant, Ahmad, told reporters: "Ten days, can't take a shower, small tent, cold, water everywhere, rain all the time. It's not important for me to stay in the UK … but I have family there."
Despite criticism from charities and activists, authorities won a court order last week for the partial demolition of the camp and the eviction of hundreds of migrants including children.
Calais migrants sew their mouths shut in 'Jungle' camp demolition protest https://t.co/FFICMQA56Fpic.twitter.com/dUwj2FR8d3

— The Telegraph (@Telegraph) March 3, 2016
Sorry, France, but razing the Calais 'Jungle' is not humanitarian | Clare Moseley https://t.co/XnMtAXZuyh

— The Guardian (@guardian) March 3, 2016
.David_Cameron</a> announces an extra £17million in &#39;priority security infrastructure&#39; in Calais <a href="https://t.co/fBGnsyPJy2">https://t.co/fBGnsyPJy2</a></p>&mdash; Sky News (SkyNews) March 3, 2016
France issues Calais migrant warning over British EU referendum https://t.co/UbBF1s8KwXpic.twitter.com/zkKTr9tucq

— The Telegraph (@Telegraph) March 3, 2016
This morning vicenews</a> broadcast live from the Calais &#39;Jungle&#39;, watch it here: <a href="https://t.co/NMQdRjtN4D">https://t.co/NMQdRjtN4D</a> <a href="https://t.co/rixdSYFw7L">pic.twitter.com/rixdSYFw7L</a></p>&mdash; VICE News (vicenews) March 3, 2016