Trump vs. Clinton: towards a 'nasty' showdown
Comments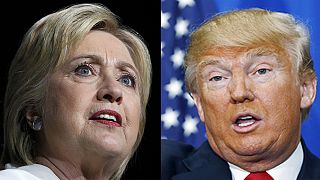 Donald Trump for the Republicans, versus Hillary Clinton for the Democrats: Super Tuesday primary results confirmed the race to the White House has its clear frontrunners.
If we end up with these two, it'll be pretty brutal and pretty nasty
Trump, the establishment's biggest headache right now, portrayed himself as a "unifier". The provocative billionaire said he could give the Republican party the strength to defeat Clinton, should he face her in the general election next November. That sounded like a peace offering to the Republican establishment, worried that his brash style will alienate voters hand the White House to the Democrats.
Hillary Clinton, meanwhile, was propelled as the Democratic frontrunner, ahead of Bernie Sanders, with big support from black voters in southern states. Recent polls suggest she would easily beat Trump in the November 8 election. But Democrats know better than to underestimate this unpredictable opponent. Clinton's big challenge, just like Trump's, will now be to appeal to a broad electorate.
To better understand the challenges both candidates face, our journalist Alasdair Sandford spoke to Professor Peter Trubowitz of the London School of Economics, a specialist in American politics.
Alasdair Sandford, euronews:Are both these frontrunners virtually home and dry now? Will it really be Clinton against Trump in November?
Professor Peter Trubowitz: "Now I think it's too early to call it 'done' but both of them scored very impressive victories yesterday. And you know, Trump winning across the board in moderate, Republican states, in very deep conservative states – and Clinton doing very well on the deep South as expected, but also picking up a moderate state like Massachusetts, close to Bernie Sanders' home state of Vermont and a state that he really needed to pick up… In Trump's case, I think what we're going to see from Cruz, from Kasich and Rubio as well, is an attempt to try to prevent him from reaching the magic number of delegates, to kind of force it into a brokered convention."
euronews: Now you've written about the dominance of the Trump factor in this election… to people outside the United States it seems incredible that someone with such extreme views could get so far. Could you tell us what exactly is going on in America at the moment, to explain this?
Prof. Trubowitz: "I think the thing you have to understand about Donald Trump is that he is tapping a deep anger and resentment in the US about the way that Washington operates and who Washington is delivering goods for. Basically you have wage stagnation in the US, rising inequality and political dysfunction and many Americans – they don't trust Washington, this is especially true in the Republican party, where only 6 percent of them trust what's going on in Washington – and they think that Washington is serving the interests of very powerful and rich people. And Donald Trump is running against that and running as an independent who doesn't need anybody's money. An 'independent' in the sense that he is not part of the Washington establishment and that I think is what's resonating with Republican voters right now in the United States."
euronews: But can he win over the electorate at large, should he secure the nomination?
Prof. Trubowitz: "Well I think that's a big question and nobody knows the answer to this. We're in uncharted territory and anybody who tells you that they know the answer you should discount that… I mean this is a guy that is appealing to a broad cross section of the Republican constituency . Whether or not he can appeal to kind of independent, moderate voters – I think the verdict is still out."
euronews: What about Hillary Clinton, where is she vulnerable? If as Trump says "she's been there for so long", is that something that is going to be an advantage for Clinton or a disadvantage?
Prof. Trubowitz: "You know it cuts both ways – I would say that Clinton's vulnerability right now has to do with millennial voters. Young voters and also white male voters… she's not scoring high there, Sanders is beating her on both of those fronts, and that's a vulnerability going forward. And I think one of the things she needs to do is to shore up strength on both of those sides of the Democratic Party."
euronews:And if it is a Clinton-Trump race, how do you expect that to play out? Is it going to be particularly ugly?
Prof. Trubowitz: "Yeah the short answer to that is yes. Ugly and brutal. Why? Because both of them have very high negatives (i.e. negative ratings) – above 50%. Both candidates, if it ended up being those two candidates, would run a lot of negative ads to try to drive those negatives even higher in the campaign. And so I expect, if we end up with these two, it'll be pretty brutal and pretty nasty."