Argentina strikes deal with US 'holdout' creditors
Comments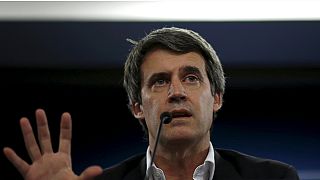 Argentina has agreed in principle to a deal with US hedge funds ending a 15-year-old dispute over its failure to repay billions of dollars worth of bonds.
The deal is to pay about four billion dollars ( 3.6 billion euros) to settle with four "so-called "holdoutfirms that had refused to restructure debt after the country's 2001 default.
During a 15-year legal battle, creditors attempted to embargo everything from Navy frigates to satellite launches to claw back the money a New York court said they were owed from defaulted bonds.
In order to lift a financial blockade on Argentina, the country's congress must approve the deal and reverse two laws — the Lock Law and Sovereign Payment Law — that prevent the country from paying creditors who had rejected the 2005 and 2010 restructurings.
Daniel Pollack, New York Court-appointed mediator explained: "Argentina must take the matter to congress. Obviously the judge will watch very carefully to see whether congress lifts the Lock Law and the Sovereign Payment Law and he will then determine whether he will vacate the injunction."
The agreement is being seen as a victory for new Argentine president Mauricio Macri, who took office in December after making the ending of the dispute one of his campaign promises.
If approved by congress it will mean Argentina can return to international capital markets after a 15-year ban. Macri's predecessor Cristina Fernandez de Kirchner had refused to negotiate with the "holdouts", calling them "vultures".
Argentina's Debt Drama: How We Got Here https://t.co/FndiyK8VXk by littlewern</a></p>&mdash; Taos Turner (taos) February 29, 2016