Swiss vote in referendum to deport low-level criminals
Comments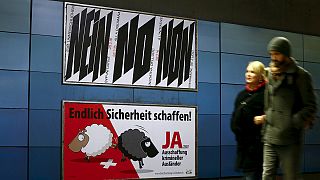 A controversial black sheep poster urging voters in Switzerland to make it easier to deport non-Swiss criminals.
The right-wing Swiss People's Party is behind today's referendum.
It is notoriously difficult to get Swiss citizenship. Even third-generation immigrants, born in Switzerland are not automatically Swiss, as national councillor Filippo Lombardi explains.
"All foreigners – and those who have lived here for over 30 years -, foreigners who were born here in the second and third generation – they are all foreigners, a quarter of our population is submitted to a supplementary punishment which the rest of the population does not have, this is a blatant injustice," says Lombardi.
The provisions of the so-called Enforcement Initiative conflict with EU association agreements on freedom of movement.
If accepted, it would create a two-tier justice system: one for the Swiss, and one for the so-called foreigners, and would damage Swiss relations with its most important trade partner.
Deporting foreigners for breaking the law is hot issue as Swiss ready for polls https://t.co/Qg0Ij3yyvQpic.twitter.com/NfUm47I9nN

— Reuters India (@ReutersIndia) February 25, 2016