Exit polls show Ireland's outgoing coalition to fall short of a majority
Comments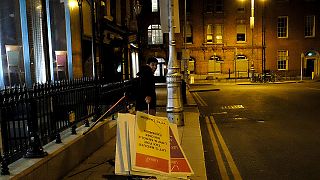 Ireland looked set to kick Prime Minister Enda Kenny's coalition government out of office with no clear alternative in sight, according to an exit poll after Friday's general election.
The poll commissioned by the Irish Times newspaper said Kenny's centre-right Fine Gael will win but junior partners Labour will fall short of the votes they need for re-election.
Michael Martin's main opposition Fianna Fáil is said to be in close second on 23% of the vote, while Sinn Fein, lead by Gerry Adams was expected to make big gains.
Left-wing Sinn Fein has already seen a near doubling of support since the last vote leaving it jostling with centre-right party Fianna Fail for the position of second largest party.
Political stalemate poses risks for the recovery of Ireland's recently-battered economy.
The first of 157 seats were due to be declared on Saturday afternoon with the final winners potentially not decided until early next week.