ISIL: not a caliphate, but a crime ring, says Obama
Comments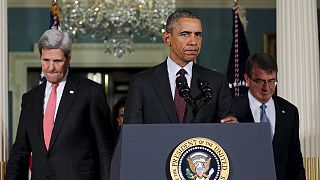 The US president has said that an end to the conflict in Syria is key to dismantling the so-called Islamic State, or ISIL.
Barack Obama has vowed to prevail in the fight to destroy the group.
He was addressing reporters ahead of US-Russian ceasefire plan in Syria.
"More people are realising that ISIL is not a caliphate, it's a crime ring," he said.
Obama continued: "It's a criminal gang pretending to be a state, said one Syrian refugee. They turned out to be thieves, said another."
"So, they're not winning over hearts and minds, and they are under severe pressure," Obama added. "But, as we have said all along, the only way to deal with ISIL, in a way that defeats them in a lasting way, is to end the chaos and the civil war that has engulfed Syria."
The president pointed out that ISIL and the al-Qaeda-linked Nusra Front will remain targets during the cessation of hostilities. Both groups were not part of peace negotiations that took place earlier this month in Vienna.
The cessation of hostilities is due to start at midnight at 23.00 CET on Friday February 26.