US and China agree plan to step up sanctions against North Korea
Comments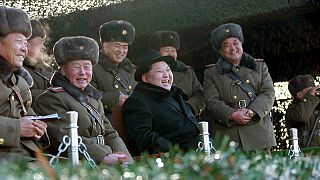 The US and China have agreed on a draft resolution that would expand UN Security Council sanctions against North Korea over its latest nuclear test.
Beijing and Washington is said to have a reached a deal, which would go to the full 15-member council soon.
The two veto powers had been negotiating on a draft resolution for the past seven weeks, following Pyongyang's fourth nuclear test in early January.
The draft is expected to call for the blacklisting of a number of individuals and entities.
China and America have had different views on how strong the response should be to North Korea, since the nuclear test.
Washington has urged harsh punitive measures, while Beijing has been emphasising dialogue and milder UN steps that are confined to non-proliferation.