The law of the jungle is expulsion as Calais camps face demolition
Comments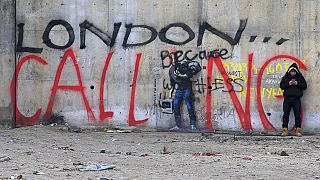 The French government has announced that on February 22 as many as 800 migrants will be expelled from the Calais jungle.
France to evict 1,000 refugees from the Calais 'Jungle' camp because it "isn't dignified" https://t.co/eenAGd9foTpic.twitter.com/HvfvoLXuiQ

—

AJE

News (@AJENews) February 13, 2016
Authorities plan to demolish 7 hectares of the jungle, around half the camp.
It is claimed the area to be cleared is home to a maximum of 1,000 individuals.
Aid agencies counter that 2,000 people live there, many of them unaccompanied children.
As well as the squalid tents, vital support infrastructure looks set to go such as schools, a women and children's area and a youth and legal centre.
Libraries, youth clubs, theatres: how Calais' "Jungle" camp is starting to look like a city https://t.co/l7TmEmsUrypic.twitter.com/NbdachYpvr

— CityMetric (@CityMetric) February 18, 2016
These communal areas provide much needed respite from the harsh reality of jungle life.
Glastonbury Festival volunteers are flocking to Calais Jungle to offer help https://t.co/3UD3Klvh68pic.twitter.com/TVVS7hgLhJ

— The Independent (@Independent) February 14, 2016
The 24/7 attempts to stow away on ferries, cars and trains and trucks are escalating as the deadline for demolition gets closer.
There are thousands of people desperate to get to the UK, so much so that a muddy track in the jungle is named David Cameron Street.
Authorities in Calais are overwhelmed: "There are thousands of people here and the local authorities can't cope, no way," said an unnamed Calais councillor.
The French have spent €25m on converted shipping containers each containing 12 beds. There is electricity, but no one wants to relocate, they are scared, they think it looks like a jail or a detention centre.
[Calais] Le camp de containers a été construit https://t.co/fXueIJJ43lpic.twitter.com/kCds2GFDgr

— Renversé (@renversech) February 11, 2016
The lack of communal facilities adds another layer of distrust.
Maya Konfori is a volunteer for Auberge des Migrants:"People have moved into the container camp where there is a warm bed, but that is all. They can't even make a cup of tea. There is nothing, no meeting place, no social life, no schools, no church, no mosque. There is nothing absolutely nothing."
The amazing JCRAG</a> team in &#39;The Jungle&#39; <a href="https://twitter.com/hashtag/Calais?src=hash">#Calais</a> with Maya Konforti of L&#39;auberge des Migrants <a href="https://twitter.com/hashtag/refugeecrisis?src=hash">#refugeecrisis</a> <a href="https://twitter.com/hashtag/Jersey?src=hash">#Jersey</a> <a href="https://t.co/tbvXXeFkDN">pic.twitter.com/tbvXXeFkDN</a></p>&mdash; JCRAG (JCRAG) December 27, 2015
Jungle camps first sprouted up around Calais in 2002 each in turn demolished by French authorities.
The fate of the hundreds of unaccompanied children is a major concern for aid agencies with a number going missing as refugees pack up and move on.
Children of Calais Jungle camp face eviction https://t.co/xIcqU0jIeNpic.twitter.com/E92rvoT2K4

— The Times of London (@thetimes) February 19, 2016
Stress and anxiety disorders among the young people are on the rise piling yet more misery on those that have already suffered much in their short lives.
And now they must move on again, that is the law of the jungle.