Fears over fate of '10,000 missing refugee children'
Comments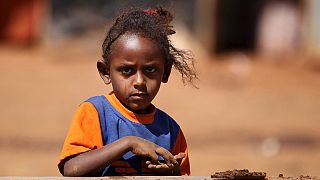 It is one of the most disturbing aspects of the migrant crisis – the fate of some 10,000 unaccompanied child refugees thought to have gone missing in Europe.
The EU's law enforcement agency, Europol, first raised the alarm.
Those on the frontline, like the Serbian-based NGOATINA, know only too well the plight of some youngsters.
"They didn't have the money to pay for the trip so in some way they promised smugglers that they will pay when they reach the destination countries," said Jelena Hrnjak of ATINA.
"This means that they are in a kind of a debt. They are obliged to return this debt and nobody knows what they will have to do when they reach the countries where they want to be."
The fear is that criminal networks are now actively targeting the most vulnerable in countries where they thought they would find sanctuary – with children being exploited, sexually or otherwise.
Thousands of unaccompanied migrant children go missing, many are feared to be trafficking victims. https://t.co/zDdjuUQ6Ks

— End Trafficking (@EndTraffick) 2 février 2016