Migrant crisis: Warnings over EU survival as ministers meet
Comments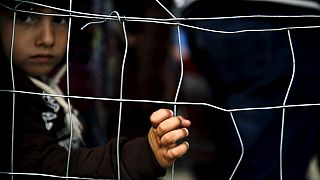 Amid fresh fears that the EU's survival could be threatened by Europe's worst migration crisis since World War Two, the bloc's interior ministers were meeting in Brussels on Thursday.
But as they seek solutions, member states seem just as split as ever with Austria, the country behind the warning, prompting criticism as it pursues border restrictions to stem the influx along with Balkan nations.
The UN refugee agency (UNHCR) is among those expressing alarm.
The UNHCR says it is "concerned by recent restrictive practices adopted in a number of European countries that are placing additional undue hardships on refugees and asylum-seekers across Europe, creating chaos at several border points, and putting particular pressure on Greece as it struggles to deal with larger numbers of people in need of accommodation and services."
Austria will only allow 3,200 people to enter + accept 80 new asylum applications per day https://t.co/TYbHiuQi9kpic.twitter.com/FerhygYCcp

— UN Refugee Agency (@Refugees) 24 février 2016
Having decided to send ships to the Aegean Sea to tackle criminal networks smuggling refugees into Europe, NATO says it is playing its part in addressing this humanitarian tragedy.
The alliance has agreed a plan for its operations that will overcome territorial sensitivities between Greece and Turkey.
NATO overcomes Greek-Turkish tensions to agree Aegean mission https://t.co/lnsmjjHPtzpic.twitter.com/D3KGnfVtBm

— Kathimerini English (@ekathimerini) 25 février 2016
But as deals are made and disputes continue, the migrants and refugees keep coming. Some 100,000 have already arrived in Europe this year with many more expected in the summer – unsure of what is awaiting them on arrival.
Children from #Afghanistan stuck in freezing conditions as border changes in Balkan region create confusion & chaos pic.twitter.com/yOYCabnO8W

— UNICEF (@UNICEF) 24 février 2016