Funeral held for Italian author Umberto Eco
Comments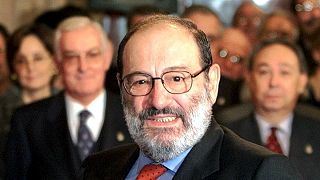 Family, fans and government ministers have gathered for the funeral of Italian author Umberto Eco in Milan.
He was best known for his international best-seller "The Name of the Rose."
Eco had been battling cancer and died on Friday.
His grandson Emanuele spoke about how proud he felt to have Eco as a grandfather and thanked him for the things they did together.
After the one hour-long ceremony at Sforza Castle, the crowd cried out Eco's name while applauding as the coffin was carried out.