Michigan shootings: Uber driver denied bail on murder charges
Comments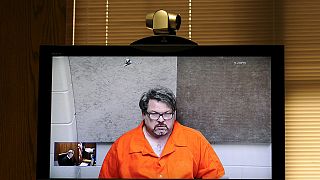 An Uber driver, accused in the US of six counts of murder and two counts of attempted murder, has been denied bail.
Jason Dalton, 45, is charged in connection with a series of random shootings in western Michigan.
He made his first court appearance after being arrested in Kalamazoo on Sunday.
The charges filed also include weapons violations. The murder charges carry a mandatory life sentence.
An Uber passenger says he called the police to report an erratic driver more than an hour before authorities allege the driver began shooting.
President Barack Obama said on Monday that he is pledging all needed federal assistance in response to the shooting.