Burundi: Ban Ki-moon wins pledge of 'inclusive dialogue'
Comments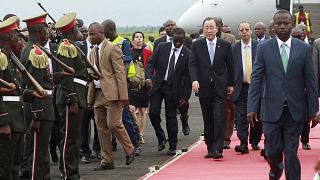 Under pressure to end the bloodshed in Burundi, Ban Ki-moon appears to have made progress.
Just hours before the UN Secretary General's arrival in the central African nation on Monday, several people were reported killed in gun and grenade attacks.
Ban Ki-moon arrived in Burundi on Monday to support of efforts to resolve political crisis https://t.co/wrnzpzeu7Kpic.twitter.com/djp9eRSCSe

— United Nations (@UN) 23 Février 2016
But following talks with Ban, President Pierre Nkurunziza and the opposition have now agreed to engage in 'inclusive dialogue'.
The president's decision last year to run for a third term sparked street protests by opponents who claimed this was unconstitutional. His government foiled a coup in May and he won re-election in July, but the poll was disputed and the violence has continued.
Hundreds of people have been killed and nearly quarter of a million more have been forced to flee their homes.