Michigan massacre suspect identified as Jason Dalton
Comments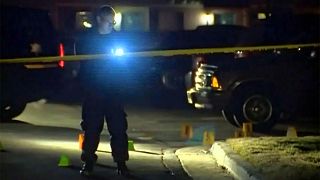 Seven people were shot and killed and several others wounded in the US state of Michigan on Saturday night.
A suspect was arrested and has been named as Jason Dalton.
Authorities and local media said three separate and apparently random shootings took place in Kalamazoo County.
"We have multiple people dead. In summary what it looks like is driving around finding people and shooting them in their tracks," Kalamazoo County Undersheriff Paul Matyas told reporters.
Four people were reportedly massacred at a Cracker Barrel restaurant including a 14-year-old girl. A father and son were gunned down at a Kalamazoo car dealership.
Local media said on Sunday a teenage girl who was shot had died, becoming the seventh fatality.
Police and the Kalamazoo Crime Lab were searching a house registered to the 45-year-old suspect.