Egyptian president promises to crack down on police abuses
Comments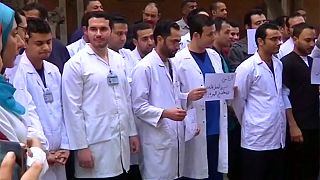 The president of Egypt has promised to crack down on police brutality
Abdel Fattah al-Sisi has decided to act as public anger mounts over alleged abuses.
When a doctor told a policeman in Cairo that his cut didn't need stitches, officers beat him, detained him: https://t.co/qlTL2XEDz7

— The Associated Press (@AP) February 12, 2016
It comes as doctors in Cairo have staged a rare protest in support of two colleagues who they say were beaten by police for refusing to falsify medical records.
Anger over police abuses helped fuel the 2011 uprising in Egypt.
The government says all alleged violations are investigated.
Earlier this month, the body of an Italian student was found on the outskirts of Cairo bearing, what activists say, were marks of torture.