Police arrest Uganda's main opposition candidate...again
Comments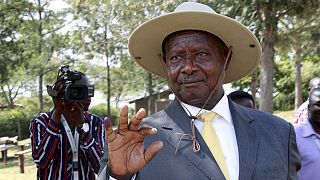 Police have arrested Uganda's main opposition candidate Kizza Besigye for the third time this week as early results from the country's presidential election showed President Yoweri Museveni set to extend his 30-year grip on power.
Besigye was initially detained for alleged criminal trespass and assault.
Besigye has challenged Museveni unsuccessfully in three previous elections. He had repeatedly insisted Thursday's election would not be free and fair, and has accused the government of manipulating the vote.
Police called Besigye's accusations unfounded and outrageous.
Angry protesters say one ballot box had been opened after votes had been cast and allege ballot papers had gone missing. Some demonstrators grabbed the ballot box and started ripping up the votes inside.
Critics have accused Museveni of not tackling corruption or creating jobs and of acting increasingly like an autocrat.