Opposition leader detained on Uganda election day
Comments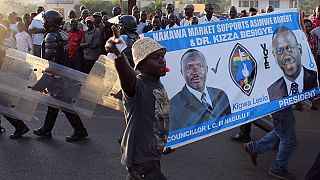 Opposition leader Kizza Besigye was briefly detained on polling day in Uganda as the government shut down social media sites, reportedly due to security concerns.
They are the latest signs of tension in Thursday's presidential election, which is widely expected to be won by veteran leader Yoweri Museveni.
Leading opposition candidates have predicted vote rigging in the ballot.
President Museveni, 71, has ruled for 30 years but the vote is likely to be his toughest challenge yet, given the size and enthusiasm of crowds at opposition rallies and all sides accusing each other of stoking tensions and assembling vigilante groups.
On Monday, one person was killed after police fired bullets and tear gas at Besigye supporters, who hurled rocks and erected street barricades.