It's a deal: Cameron hails 'special status' for Britain in EU
Comments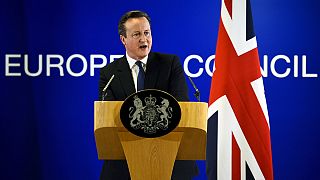 After hours of painstaking negotiations in Brussels, British Prime Minister David Cameron has reached an agreement with his European partners to give the UK as he puts it 'special status in the EU'.
Britain will be permanently out of ever closer union, never part of a European super state
Among the package of measures, Cameron won a commitment to change the bloc's governing treaties in future to recognise that Britain was not bound to any political union and would have safeguards against financial regulation being imposed on the City of London by the euro zone.
Before heading home to present the details to his Cabinet, the British premier hailed success over key demands.
"Britain will be permanently out of ever closer union, never part of a European super state," he told a news conference.
"There will be tough new restrictions on access to our welfare system for EU migrants, no more 'something for nothing'. Britain will never join the euro and we have secured vital protections for our economy and a full say over the rules of the free trade single market while remaining outside the euro."
I have negotiated a deal to give the UK special status in the EU. I will be recommending it to Cabinet tomorrow. Press conference shortly.

— David Cameron (@David_Cameron) 19 Février 2016
After much wrangling at the two day EU summit, the settlement won unanimous support, as announced by European Council President Donald Tusk.
Deal. Unanimous support for new settlement for #UKinEU

— Donald Tusk (@eucopresident) 19 Février 2016
Britain is already the EU's most semi-detached member, having opted out of joining the euro single currency, the Schengen zone of passport-free travel and many areas of police and judicial cooperation.
No country has ever voted to leave the Union and many leaders said they felt they were at an historic turning point for European integration.
However for eurosceptic critics in the UK, the benefit curbs and other measures are trivial. They have accused David Cameron of watering down his original demands.
A number of key figures in his own Conservative party are expected to campaign for Brexit – Britain leaving the 28-nation bloc – when the UK votes in an in-out referendum, expected to be held in June, with the outcome deeply uncertain.
Nigel Farage, the leader of Britain's anti-EU UK Independence Party, tweeted his rejection of the agreement.
This is a truly pathetic deal. Let's Leave the EU, control our borders, run our own country and stop handing £55m every day to Brussels.

— Nigel Farage (@Nigel_Farage) February 19, 2016
Our correspondent in Brussels Sandor Zsiros says: "The big question in the coming months will be whether the British prime minister can convince voters that, after this deal, EU membership is worth it. This may well be a bigger task for David Cameron than it was to reach agreement here at this summit."