Can the wrecked Syrian city of Homs rise again?
Comments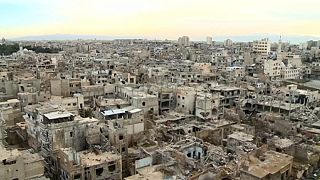 The old city of Homs in Syria is devastated after years of war. Few buildings remain intact and even fewer of the inhabitants are still living there.
With the help of UNHCR, the UN refugee agency, two or three thousand of the city's former inhabitants have returned to see what remains of their former lives.
Nearly half a million fled the old city the agency says and some of those have been displaced the fighting not once but many times.
"It is painful. I worked hard for 40 years. I put all my money in it only to find it destroyed," said one elderly man Radhi, as he stood surveying the ruins of his old home in the Wadi al-Sayeh neighbourhood.
Amazingly Radhi is determined to return and rebuild his home and the life he had.
"As soon as the water and electricity are back we will come back, and we would be more than happy to return. We are living an undignified life in the village," he said.
But for others they simply cannot see anything left to return to.
"One thing is to return to my roots. To return to my life. To return to my nationality. This is our life. We will not forget. This is not Syria. It is not Syria. It is some kind of movie, one man called Hadi said.
No one is quite sure if the old city can rise again but some are rebuilding.