Stanley Cup champs Chicago Blackhawks honoured at White House
Comments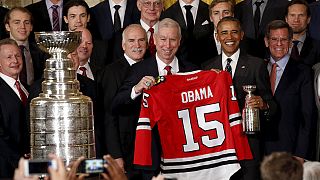 The Chicago Blackhawks were honoured at the White House this week in celebration of the team's 2015 Stanley Cup triumph.
The Blackhawks beat the Tampa Bay Lightning last season becoming the most dominant team in the NHL since 2009.
President Obama appeared overjoyed as he led proceedings for his hometown ice hockey team although it wasn't the first time.
It is the third NHL title for the franchise in the past six years, they also won in 2010 and 2013.
In a speech to the gathered media Obama joked that he's hoping his team claim one more championship before he leaves office.