Pope ends trip to Mexico decrying the suffering of migrants
Comments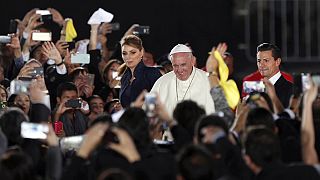 Pope Frances has ended his Mexico visit along the US border. There he prayed at a memorial for migrants who have perished trying to reach the United States.
The pope decried forces compelling people to make illegal journey across U.S.-Mexico border https://t.co/pHMK0K5ZnUpic.twitter.com/knJJ9t5DRq

— New York Times World (@nytimesworld) February 18, 2016
Against this backdrop he denounced immigration policies which force many into the hands of drug gangs and people smugglers and he remembered the plight of migrants everywhere.
"We cannot deny the humanitarian crisis that in the last years has meant the migration of thousands of people, by train, on the road or even on foot, crossing hundreds of kilometers of mountains, deserts, inhospitable roads. This human tragedy that is the forced migration nowadays and is a global phenomenon."
Earlier Francis had urged an end to the cycle of violence in a speech to 3,000 inmates of one of the most notoriously violent jails in Mexico in the city of Ciudad Juarez.
President Peña Nieto was on hand to give Pope Francis a send off as his tour to Mexico came to an end… It's been one in which the Pope has visited some of the most "marginalised"http://www.euronews.com/2016/02/15/pope-francis-embraces-mexico-s-most-marginalised-people/ areas of a diverse country.