Pope Francis embraces Mexico's most marginalised people
Comments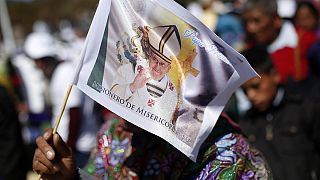 Pope Francis has embraced Mexico's poor indigenous south, denouncing what he described as the people's "systemic" exclusion from society.
Many women wore traditional clothing and parts of the Mass in the city of San Cristobal de las Casas were said in native languages. "Today's world, ravaged as it is by a throwaway culture, needs you!" he said as he celebrated a Mass that included bible readings in native tongues, referring to the mostly indigenous throngs who loudly cheered him.
"You have much to teach us," he said, lauding Mexico's native peoples while denouncing "the systemic and organised way your people have been misunderstood and excluded from society."
He said the Mass before a Hollywood-style stage set replica of the facade of the colonial-era city's main cathedral.
Many women wore indigenous dress of black skirts and colorful tops, their hair braided with ribbons and parts of the Mass were said in the Tzeltal, Ch'ol and Tzotzil languages.
The state of Chiapas was the scene of the Zapatista uprising of Maya rebels in the 1990s. It is now the frontline of a government crackdown on illegal immigration to the United States from Central America.
Francis was presented with a copy of the Bible which had been specially translated into native languages.
He plans to visit more of the country's most marginalised areas as his five-day visit to Mexico continues.
On Tuesday, the pontiff will speak to youths in Morelia, the capital of Michoacan state, where warring drug gangs cook much of the methamphetamine smuggled into the United States.
He will then travel to Ciudad Juarez, which borders the US state of Texas, where he will pray for migrants and victims of violence.
Pope Francis will preside over a Mass using three native languages in Mexico's Chiapas state https://t.co/idjUlgzxtspic.twitter.com/lxgslxFD7M

— The Boston Globe (@BostonGlobe) February 15, 2016