UN gets green light from Syrian government for aid deliveries
Comments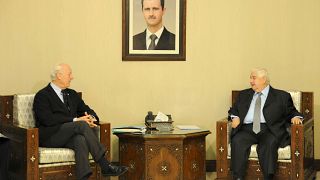 The UN says the Syrian government has approved aid deliveries to seven besieged areas and that convoys are being prepared for departure in the coming days.
The breakthrough came during a meeting in Damascus attended by the UN's Special Envoy, Staffan de Mistura.
Their meeting came at a time when government forces have been advancing rapidly with the aid of Russian air strikes, ans just days before an internationally agreed pause in fighting is due to take effect.
The dumb and dumber
U.N. envoy wins #Syria government green light for aid convoys: U.N. https://t.co/vPVIOZWfZB via Reuters</a></p>&mdash; Zaher Sahloul (sahloul) February 16, 2016
The seven areas are those deemed by the 17-member International Syria Support Group to be most in need of relief.
Farhan Haq, deputy spokesperson for the UN Secretary General said:
"Humanitarian agencies and partners are preparing convoys for these areas to depart as soon as possible in the coming days. And as the special envoy pointed out, he said in his remarks to the press in Damascus, that the test will be tomorrow."
Which means the convoys could be leaving as early as today, Wednesday, for destinations including Madaya, the city surrounded by government troops where people have been dying of starvation.The UN estimates almost half a million people live in areas besieged by either ISIL fighters, rebels or regime troops.
The seven areas named by the UN are:
Deir el-Zour, a city in the east under siege from so-called Islamic State
Foah and Kefraya, in northern Idlib province, besieged by rebels
Madaya, Muadhamiya, Kafr Batna and Zabadani, all in the Damascus area besieged by government forces