Claims of Chinese missiles in South China Sea spark tension in region
Comments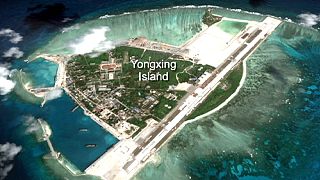 Taiwanese officials say China has deployed an advanced surface-to-air missile system on an island in the South China Sea. The US also acknowledged the "apparent deployment" of the rockets.
Woody Island is one of the Paracel Islands, which are claimed by China, Taiwan and Vietnam. The archipelago has been under Chinese control for more than four decades.
Beijing has dismissed the missile reports, which initially appeared in the US media, saying:
"We believe that this is an attempt by certain Western media to create news stories (…) As for the limited and necessary self-defence facilities that China has built on the islands and reefs stationed by Chinese personnel, this is consistent to the self-preservation and self-protection that China is entitled to under international law. So there should be no question about it."
In a statement to Reuters news agency, Chinese authorities said China is "within its rights to deploy defence facilities" on the islands as they form part of China's territory.
The Defence Ministry claims the "facilities" have been in place for years.
"China's air and naval defensive deployments on the relevant islands have existed for many years," the statement said.
The presence of missiles would add fuel to the fire of an already bitter dispute over the South China Sea.