Troubled waters: the South China Sea dispute
Comments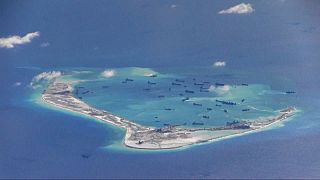 With the world distracted by seemingly more immediate stories of war, migration and elections, a spat between the US and China wasn't exactly headline news for many.
It happened earlier this month (May) when a US spy plane flew over disputed territory in the South China Sea, prompting a strong exchange between Beijing and Washington.
Some believe arguments over the contested waters could descend into a military conflict.
Why is the South China Sea so important?
In short, money.
Half of the world's commercial shipping passes through the sea en-route from Europe and the Middle East to East Asia.
Trade value is put at $5 trillion (4.58 trillion euros) every year, according to Reuters.
But, perhaps more importantly, it is believed there are huge oil and gas reserves beneath the seabed.
The World Bank says the South China Sea has oil reserves of at least seven billion barrels and an estimated 900 trillion cubic feet of natural gas.
This could provide China's growing economy with energy security but is also of huge potential for smaller countries like Malaysia and Vietnam.
Who claims ownership of the South China Sea?
The sea, which covers 3.5 million square kilometres, borders so many countries: Malaysia, Brunei, the Philippines, Vietnam, Taiwan, and, of course, China.
China says nearly the whole sea belongs to it, contradicting competing claims from several other Asian nations including Vietnam, Taiwan, Malaysia, Brunei and the Philippines.
China's neighbours – and the US – fear Beijing will use the newly-created facilities for military use, cementing their claims over the sea.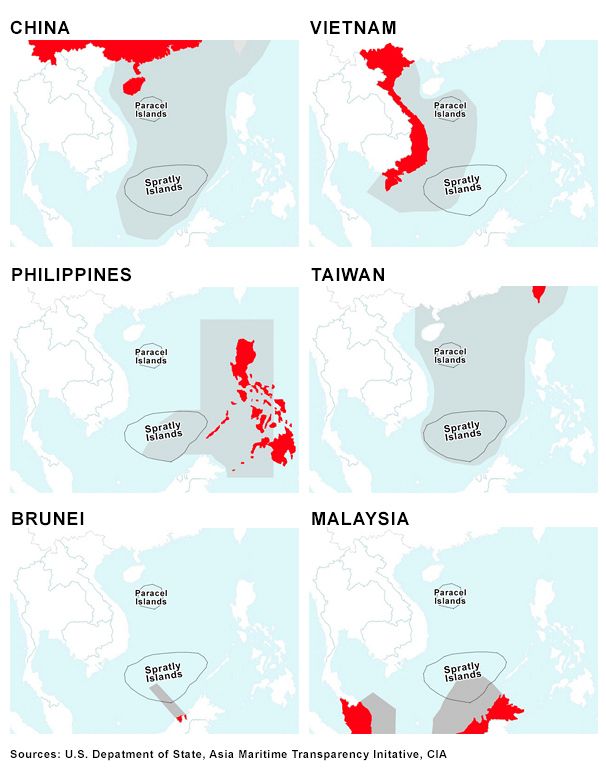 Country claims to South China Sea, shown in grey
Why is tension building?
Tensions escalated when satellite images emerged in April appearing to show China building an airstrip on the Spratly Islands, a disputed territory. The construction work on reclaimed land can accommodate a runway around 3,000 metres long, according to a report published in IHS Jane's Defence Weekly.
There has also been claims China was building airstrips on Johnson South Reef in the Spratlys and Woody Island in the Paracel Islands.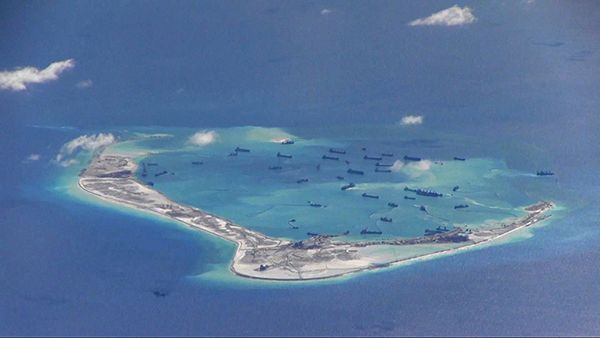 Above: Chinese dredging vessels purportedly spotted in South China Sea (US Navy)
On Tuesday (May 26), China outlined a strategy to boost its naval reach in the region, saying it would go on the offensive if required.
It also unveiled two lighthouses in disputed waters, something likely to increase tensions further.
US Navy video uploaded on 21 May, shows a P-8A Poseidon flying over new islands in the South China Sea.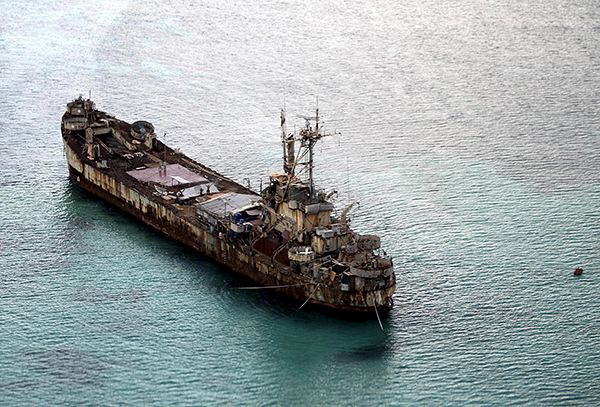 Filipino soldiers wave from old Philippine Navy ship in South China Sea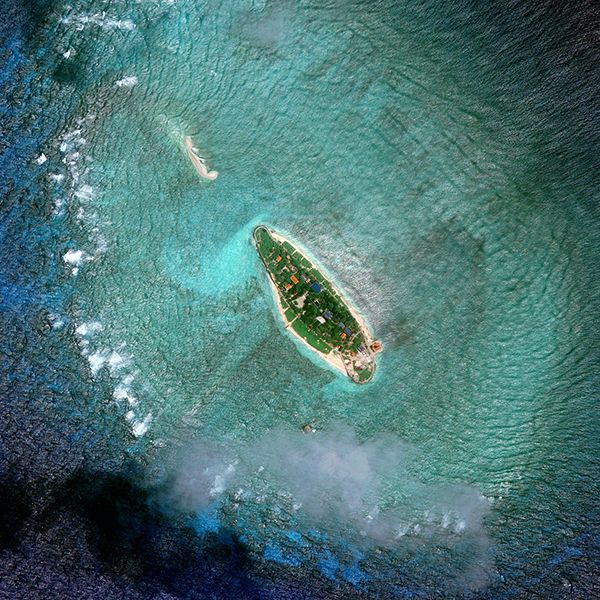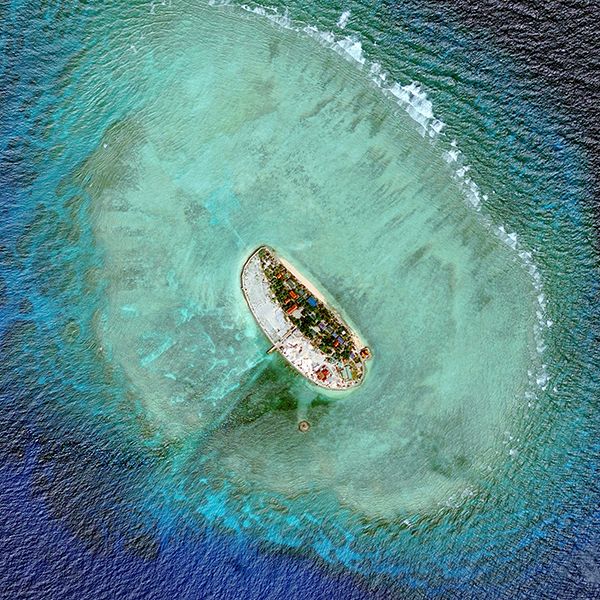 Sandy Cay pictured in the South China Sea in 2011 (left) and in 2015 (right), purportedly showing land reclamation by Vietnam
What happens next?
Taiwan put forward a peace plan on Tuesday (May 26) aimed at reducing tensions between China and its neighbours and the US.
President Ma Ying-jeou called on those involved to shelve their disagreements and start talking about sharing resources.
Launching initiative, Ma urged a peaceful resolution "before a major conflict breaks out."
Taiwan normally maintains a low key approach to such issues, but has coast guard and military facilities in the area. They include an airstrip and soon-to-be-completed port on Taiping Island, also known as Itu Abu, the largest natural land mass in the disputed Spratlys archipelago.
Ma's plan is similar to that proposed for the East China Sea, which opened the way for Taiwan and Japan to jointly fish in the contested waters.
How serious could it get?
Launching Taiwan's peace initiative, Ma urged a peaceful resolution "before a major conflict breaks out."
Hua Chunying, a spokesman for China's foreign ministry, said: "We believe Chinese people on both sides of the Strait have a duty to jointly protect China's territorial sovereignty and maritime rights and interests and safeguard the stability of the South China Sea region."
REUTERS: China moves from defence to offence in military strategy