Ukraine's PM Yatsenyuk survives no-confidence vote
Comments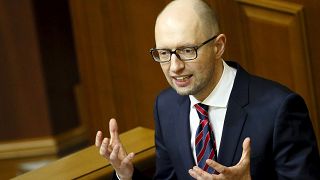 Ukrainian Prime Minister Arseniy Yatsenyuk's government has survived a no-confidence vote hours after the president asked him to step down.
It means the immediate threat of snap elections has been avoided in a country fighting a deep recession and a pro-Russian insurgency.
The no-confidence motion required 226 votes to pass in parliament, but only 194 out of the 339 MPs supported it.
Ukraine's parliament fails to vote PM Yatsenyuk_AP</a> out <a href="https://t.co/z5bA0lgrN9">pic.twitter.com/z5bA0lgrN9</a></p>&mdash; Maxim Eristavi (MaximEristavi) February 16, 2016
President Petro Poroshenko claims the prime minister has lost public support and made more mistakes than achievements . Other critics such as Svitlana Zalischchuk who is a member of the Petro Poroshenko Bloc agree:
"It's question is what kind of signal we are sending to Ukranian people. And from what we understand, 70% of Ukrainians did not support the government, because they did not believe that enough has been done in order to deal with most of the problems that are there. This situation undermines the over all credit, the over all trust in the Parliament."
A former speaker of parliament and foreign minister, Yatsenyuk was one of the main opposition leaders during the massive protests that removed former pro-Russia President Viktor Yanukovych in 2014.
Only two weeks after Yatsenyuk took up his post, Russia annexed Crimea and, soon after, a violent pro-Moscow insurgency raged in the industrial east,
On the economy, despite being credited with helping negotiate a rescue package with Western countries, there has been growing public discontent with the lack of progress.
People gather near Ukraine's Parliament, where govt no-confidence vote could be held. Some wear masks pic.twitter.com/vL1BD6oQ63

— Hromadske Int. (@Hromadske) February 16, 2016
While the vote was going outside parliament anti government protesters gathered.They are dissolutioned with a ceasefire deal that has failed to stop the separatist conflict in the east and the prospect of tough reforms required to secure the rest of a 40 billion dollar (36 bn euros)international aid package.