Balancing act: Hungary treads a delicate line between Russia and the EU
Comments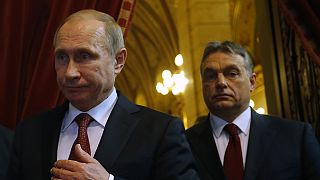 Keeping a foot in both camps can be tricky.
We are convinced that locking Russia out of Europe is not rational.
No-one knows that better than Viktor Orban, prime minister of EU-member Hungary, who visits Moscow on Wednesday for talks with Russian President Vladimir Putin.
Budapest has maintained close ties with the Kremlin at a time when the rest of Europe has given Russia the cold shoulder.
After Moscow's intervention in Ukraine, the European Union and United States imposed economic sanctions on Russia in July 2014, targeting its energy, banking and defence sectors. Moscow swiftly responded with retaliatory measures, imposing an embargo on meat, fish, dairy, fruit and vegetables from the EU and US.
With the punitive moves hurting on both sides, not least in Hungary whose exports to Russia have plunged, speculation is rife that the issue of sanctions will be discussed by Orban and Putin.
After all, the Hungarian leader's visit comes on February 17 – a year to the day since Putin was given a warm and profitable welcome in Budapest, despite chilly European relations.
President of #Hungary#Orban to come to #Russia on Feb. 17 https://t.co/RVsWdN47cnpic.twitter.com/IYP1sEFgzx

— Russia Direct (@Russia_Direct) 15 Février 2016
And it was on that occasion, in February 2015, that Viktor Orban criticised those in Europe who want to isolate Russia, taking a stance that sets him apart many of his fellow EU leaders.
Orban declared: "We are convinced that locking Russia out of Europe is not rational."
"Whoever thinks that Europe can be competitive, that the European economy can be competitive without economic cooperation with Russia, whoever thinks that energy security can exist in Europe without the energy that comes from Russia, is chasing ghosts."
But any softening of stances between Brussels and Moscow will be difficult, given the current row over Russia's military intervention in Syria amid claims that its airstrikes are targeting civilians.
That has even prompted some big names in Europe to suggest that sanctions on Russia be stepped up.
Missed @GuyVerhofstadt calling for new EU/US sanctions agst Russia #Syria? Watch it again https://t.co/AvUeTnXi6Vpic.twitter.com/L1CsxPDIHx

— ALDE Group (@ALDEgroup) 16 Février 2016
Hungary: pushing the boundaries, not crossing them
Viktor Orban may come under fire because of the expected issues on the table:
One of the most important questions is the controversial deal on the extension of the Paks nuclear power plant, a 12.5 billion euro contract partly funded by a significant loan from Moscow. Brussels says it may not comply with EU rules and has launched several investigations into the project.
Some other business agreements may hurt US interests:

NATO

member Hungary may agree to buy 22-24 military and six to eight civilian helicopters from Russia. The value of the business is about 560 million euros.
There were some discussions on establishing a new Hungarian airline with a Russian contribution.
Although it is not officially confirmed, analysts expect Orban and Putin to discuss European sanctions against Russia, as well as Russian sanctions on Hungary.
Medvedev: "We are not the ones who started this, so it is not up to us to undo it"
Obviously all the business deals with Hungary are important to Russia, although it is not all about profit. For Russia, strong ties with Hungary demonstrate to Brussels that Moscow has friends within the EU.
Although some EU countries seem to be softening on the idea of the sanctions on Russia, a six-month rollover of the bloc's economic sanctions on Russia has just been agreed. In the meantime, with crude prices depressed, Russia's oil-dependent economy is heading towards the rocks and some believe that momentum is gathering for a reset of relations with the EU.
Despite this pressure, Russia does not want to appeal directly to the EU on lifting sanctions, preferring to use its allies as back-channel intermediaries. Russia's Prime Minister Dmitri Medvedev recently told euronews in an exclusive interview: "We are not the ones who started this, so it is not up to us to undo it."
Medvedev talks to @isabelle_kumar about sanctions on Russia. Watch in full: https://t.co/wSlZ4mmMTChttps://t.co/fPu1lFIfa7

— euronews (@euronews) 15 Février 2016
Behind the scenes, Russia is attempting to make some EU members support its interest within the 28-member body and lobby for a lifting of sanctions in exchange for lifting Russian retaliatory restrictions against EU members, according to András Deák, Senior Research Fellow at the Institute of World Economics of the Hungarian Academy of Sciences. He told Euronews he thinks some EU countries being hit hardest by Russian sanctions (particularly economically fragile member states) such as Greece, Bulgaria, Cyprus, Italy and Hungary may take some steps in the European Council to ease sanctions.
What Hungary wants?
Although Hungary supported European sanctions, as an export-driven economy it seems to be looking for a behind-the-scenes way to resume exports to Russia.
Some analysts believe that Budapest is ready to discuss the lifting of Russian sanctions on Hungary, particularly as Hungarian exports to Russia have fallen by some 50% over the last two years.
Russia's Hungarian interest – an alternative view
However, Péter Balázs, former Hungarian Minister of Foreign Affairs, believes that Hungary may have gone too far in Brussels' eyes, in turning towards Russia, particularly with the country becoming heavily dependent on Russian energy sources. He believes that Hungary has not made the best of its NATO and EU membership in this delicate situation, but has sought allies "on the wrong side". Balázs says that Hungary could help to improve EU/Russian relations, but only if it is asked to do so by its European partners, which appears unlikely. In fact Balázs, a former European Commissioner for Regional Policy, thinks that Russia's primary interest in Hungary is simply as a fomenter of trouble within the EU.