'Alone in Berlin', a story of resistance to the Nazis, at Berlin Film Festival
Comments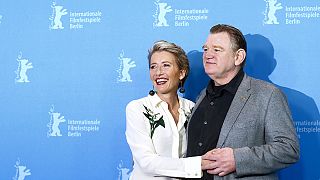 British actress Emma Thompson became the latest star to grace the Berlin Film Festival red carpet on Monday evening.
She appears in 'Alone in Berlin' directed by Vincent Pérez in which she and Irish actor Brendan Gleeson play a German couple who start a campaign to resist Hitler. The film also features German actor Daniel Brühl.
"Its a story about ordinary people who were repulsed by bad behavior and make an effort to act on that revulsion, so its a very important story because it's not one you hear told very often, Thompson told euronews.
#OklahomaLotteryAPTOPIX Germany Berlin Film Festival 2016: Actress Emma Thompson holds her na… https://t.co/RMaDAkGAEc OklahomaLottery

— Oklahoma Lottery (@LotteryOK) February 15, 2016
The film is based on German writer Hans Fallada's 1947 anti-fascist novel about a German working-class couple who were not at all political and believed in Hitler. After their son was killed in the war they begin to see the danger of the Nazis and start leaving postcards with anti-Nazi messages written on them in locations around Berlin. They were caught by the Gestapo and executed.
In the movie the couple are tracked down by by a Gestapo officer played by Daniel Brühl who won international fame with the movie 'Good Bye Lenin'.
Swiss director Vincent Pérez explained how he had tried to avoid drifting into stereotypes often seen in films about the Nazi era: "We took a human angle, the ordinary everyday German and how one could live at the time under the Third Reich."
Daniel Brühl pointed out that his character was not at all a cliché, rather it was interesting and contradictory.
Reporting for euronews in Berlin, Wolfgang Spindler described the film as being about moral courage. He said that director Vincent Pérez shot his film in English because the main theme is a European issue, adding, "In the light of the growing political populism of right-wing political parties across Europe, he may well have a point."