'24 Weeks' abortion drama is screened in Berlin
Comments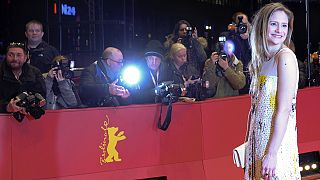 Sunday night saw the screening of a German offering at this year's Berlin film festival. Actress Julia Jentsch stars in '24 Weeks' – a story about abortion and a couple whose marriage is challenged by the prospect of having a baby with Down's syndrome. It is directed by Anne Zohra Berrached.
"For me it was very important to create a female lead character who convinces the audience because the theme (abortion) is very difficult and there are people who are strongly principled against abortion," said the film's director.
Beta Picks Up Berlin Film Festival Competition Film '24 Weeks' https://t.co/1ld441jrZ2pic.twitter.com/R6ZCg825L8

— DotVideo (Dot.VIDEO) (@dot_video) January 25, 2016
The drama focuses on the decision the couple must make – whether to continue with the pregnancy or not. The wife wants to have an abortion, but her husband is against the idea.
Reporting from Berlin for euronews, Wolfgang Spindler is disappointed at the gender imbalance among the directors with films at this, the 66th edition of the Berlin Film Festival.
He said: "The film is certainly for lovers of German cinema, but its disappointing that there is only one German film in the competition. It's also a pity that amongst all 18 films being screened only two are made by female film directors. Apparently this prestigious international competition remains like so many others, a man's world."