Cairo: Italian student Regeni showed signs of electrocution - forensic source
Comments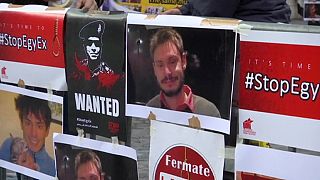 There are claims that shop surveillance video is likely to show two men, believed to be Egyptian security agents, leading an Italian student away on the night he vanished in Cairo.
It comes as more details are revealed about the death of Giulio Regeni.
According to an Egyptian forensic source, a final autopsy report shows he had signs of electrocution on his penis, seven broken ribs, traumatic injuries all over his body and a brain hemorrhage.
The prosecutor's office said it would not publicly disclose the contents of the report, as the investigation was ongoing.
Regeni had been researching independent trade unions in the country and had written articles critical of President Abdel Fattah al-Sisi's government.
Egypt's interior and foreign ministers have both dismissed the suggestion that security forces were behind the 28-year-old's killing.
Italy has sent investigators to Cairo to establish what happened. Rome says those responsible must be caught and brought to justice.
Rights groups say police often detain Egyptians on scant evidence and that they are beaten or coerced. Scores have disappeared since 2013, the groups say. Egypt denies allegations of police brutality.