Syria seizes village overlooking key rebel areas near Aleppo
Comments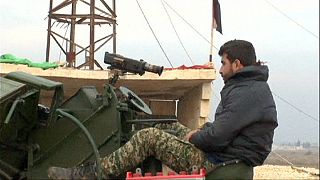 The Syrian army has retaken the a village overlooking rebel-held towns around Aleppo, according to state television.
Turkey gives a lot of help to Jabhat al-Nusra and other smaller groups. We can see it here. Ammunition comes from Turkey, the militants go there to get treatment. The militants are shelling us continuously in an attempt to unblock the road.
It said the army entered the village of al-Tamura located on high ground above the towns of Anadan, Hayan and Haritan that have been heavily bombed in recent days and become a front line in Syria's almost five-year-old war.
The army, backed by allied militias and heavy Russian aerial bombing, began a big offensive this month aimed at cutting rebel supply line with Turkey and regain full control of Aleppo, Syria's largest city and commercial hub before the war.
Up to 40,000 internally displaced people have settled in camps on the Turkish border inside Syria.
Many consider the dangerous sea crossing to Europe as their only option.
Overwhelmed aid agencies are struggling to keep pace with the worst refugee crisis since World War ll.
Every month about 300 trucks deliver food to Syria, a number that is expected to increase.
#Aleppo before and after: Syrians are sick of war, tired of 'marauding' rebelshttps://t.co/8NdypcvjUR#Syriapic.twitter.com/FjzN6Qjc2D

— Sputnik (@SputnikInt) February 13, 2016