Pakistan 'foils' plan to free Daniel Pearl's killer
Comments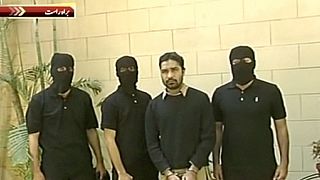 Officials in Pakistan say 97 "hardcore terrorists" have been arrested over several months.
Military spokesman Lieutenant General Asim Bajwa said plans were underway for a jailbreak to free Khalid Omar Sheikh from prison.
Sheikh kidnapped and killed the Wall Street Journal's Daniel Pearl in 2002.
Six suicide bombers had been enlisted in the attack plan, Bajwa said. Explosives had been recovered from a building believed to be a hideout, he said.
The attackers planned to raid the prison compound with two vans filled with explosives, and had a list of about 35 prisoners they planned to kill, Bajwa said, displaying pencil sketches of the prison allegedly made by the militants.
They had a separate list of about 100 prisoners, including Sheikh, whom they were supposed to release, he added.
Video images of the militants' hideout showed blue plastic barrels filled with explosives, washing machines that had been used to transport arms and ammunition, long lengths of detonating cord and dozens of ball bearings.
"This plan was 90 percent ready for execution," he added.
Pakistan says it foiled plot to free militant behind Daniel Pearl's death https://t.co/OXx1vEnDtxpic.twitter.com/Pky2eJkXPv

— New York Times World (@nytimesworld) February 12, 2016