And also... Kebab arrest, creating happiness and UFOs
Comments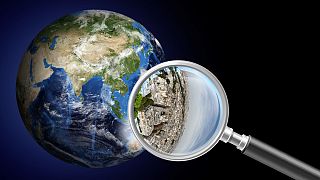 Every Friday journalists from euronews' various language teams choose a selection of stories from Europe and beyond, which may not have reached the international headlines.
Germany: doner kebab sparks arrest
A simple doner kebab has led to the arrest of a man in Berlin.
He got on a bus while eating the Turkish dish, despite the driver asking him not to.
An attempt to make him get off at the next stop also failed and resulted in the 57-year-old passenger trying to hit the driver. The police were called, but even they couldn't convince the man to leave, so they ended up carrying him off the bus!
---
Scotland: giant bunny, anyone?
Do you have plenty of space in your home? How do you feel about rabbits? The Scottish Society for the Protection of Cruelty to Animals is looking for someone to adopt Atlas. At just seven months old, he is already an impressive size.
Atlas, our larger than life rabbit, needs a new home! https://t.co/iTby6ABJOXpic.twitter.com/ROP4CujDmZ

— SCOTTISH SPCA (@ScottishSPCA) 8 Février 2016
Once he reaches adulthood, he could measure up to 1.2 metres in length – that's the size of a large dog!
---
UAE

opens Ministries of Tolerance and Happiness

The United Arab Emirates has undergone a cabinet reshuffle with an unusual twist.

President Sheikh Khalifa bin Zayed Al Nahyan has approved the creation of the State Ministries of Tolerance, Happiness and Youth Affairs.

The Emirati federal government now also numbers eight women among the 29 posts. The youngest is just 22 years old.
---
Greece: the truth is out there
People in Piraeus, near the Greek capital, may be surprised by what they see parked by the Municipal Theatre.
An Unidentified Flying Object is sitting outside. But no need to "phone home" just yet, it's there to promote the popular TV series X-Files, which has made a comeback in recent months and is now on air in Greece!
How surreal seeing an X-Files UFO outside the Theatre of Piraeus, a protected monument built in 1884! #Greece#ttotpic.twitter.com/KhxHq129eC

— MyAthensTour (@MyAthensTour) February 9, 2016
#ufo attack #x-files #Piraeus by nicolaos_douzinas https://t.co/Z5UnMIz5eqpic.twitter.com/Etep1wtVXD

— Pics from Athens (@AthensInsta) February 4, 2016
---
Sources:
*"Germany":http://www.spiegel.de/panorama/berlin-mann-isst-im-bus-doener-und-wird-von-polizei-rausgetragen-a-1076788.html
*"Scotland":http://www.scotlandnow.dailyrecord.co.uk/news/giant-rabbit-size-dog-rescued-7333325
*"United Arab Emirates":http://www.emirates247.com/news/government/uae-cabinet-reshuffle-new-ministeries-for-tolerance-happiness-and-future-2016-02-11-1.620575
*"Greece":http://news.in.gr/perierga/article/?aid=1500057361